IFSJ Project at the European Parliament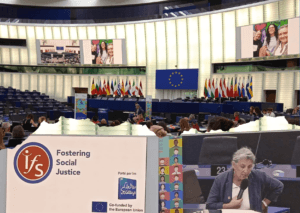 In June 2022, at the European Parliament in Strasbourg, 200-300 delegates plus 100 online heard a presentation about the IFS Fostering Social Justice at a conference about citizen participation and participatory democracy.
This was a great engagement with others in civil society, elected officials, and even members of the European Parliament.
The Team Fostering Social Justice made a complete presentation of innovative projects in plenary and was featured in 2 workshops called All Legitimate and Training for participation. What a way to celebrate the project's 18th-month birthday! Next, Rendez-vous at the United Nations at the end of the project. Do you want to know more about the project's activities so far? Read the project's Status Report.