Webinar on Domestic Violence
Event description
The webinar on Domestic Violence is an presentation of "Dialogue against Violence", a treatment programme for violence perpetrators and their families. The programme's mission is to prevent domestic violence and reduce the number of children and adults exposed to this kind of violence.
The programme aims at preventing domestic violence by offering a high specialized psychological treatment program based on evidence-based methods (such as cognitive, mentalization based and narrative therapy). We offer treatment to the whole family – including the perpetrator, the exposed partner, and their children. We also have a specialized program for young perpetrators from the age 14-18 years. Additionally, the programme helps perpetrators of domestic violence to break the chain of violence and find new and non-violent ways to deal with conflicts and difficult emotions and their families who have been exposed to the violence.
Date & time
January 12, 2022, 03.00 pm Finnish time. Event's registrations at info@ifsnetwork.org
Event Speakers
Helle Øbo, CEO and founder of Dialogue against Domesctic Violence at ASKOVFONDEN, Denmark.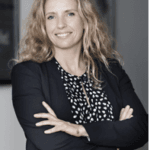 Annika Svensson, Development Director at ASKOVFONDEN, Denmark.